Owner/Location: NALCO., Damanjodi (Odisha)
Mode of Execution: EDP, FEED & Project Management Services
Key Features
Overall Capacity: Brownfield smelter capacity augmentation from 1.575 MMTPA to 2.1 MMTPA.
Major Processing Units: Stacker & Reclaimer, Crushing & Grinding, Pre/Post Desilication, Digestion, HRD/DCW, Security Filter, Precipitation, Heat Exchanger, Calcination, Evaporation etc.
Other facilities: Caustic Soda Unloading from Ship at Vizag Port and Wagon unloading facilities at Plant.
Total Project Cost: Rs.1350 Crore
Schedule: 42 Months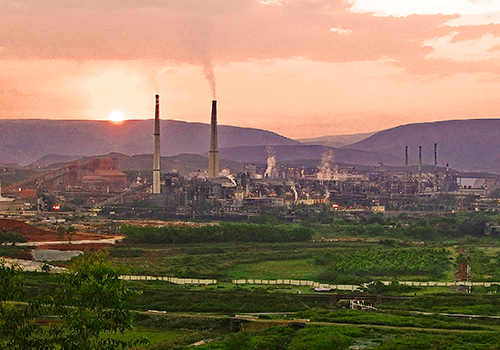 Process: Caustic Effluent Disposal & Red Mud disposal system leading to Zero Effluent discharge
Engineering
Introduction of state-of-the-art technology i.e. HRD/DCW, Diaster Filter, Vibrating Grinder thereby reducing the losses.
Engineering & design of Tanks up to the capacity of 4500 M3 and 35 M in heights.
Centralized compressed air system designed to cater the requirement of compressed air for better logistics, cost benefit & low maintenance.
Procurement: 150 nos. of vendors dealt with for procurement.
Construction
40 nos. of contractors engaged at site including package contractors.
Difficult geographical location and hilly terrain coupled with heavy rainfall posed considerable challenges.
HSE: No loss time accident