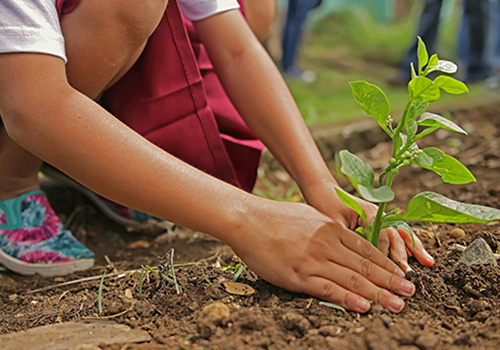 EIL works with both industries and state municipalities to deliver cost-effective and environmentally sustainable solutions for resource & waste management. Our expertise assists in better conservation of environment and eco-system by means of effective solutions for solid & hazardous waste management, resource recoveries & conservation, liquid effluent treatment & recycle, industrial emissions management, etc. Our researchers are helping solve waste management challenges by commercializing innovative technologies & cleaner processes; and developing new waste remediation techniques for industries.
In EIL, we strive to set benchmark for excellence in all aspects of our scope of services for protecting the environment through our proven technologies & procedures. Our environment processes are not only meant for mere conservation of the environment, but also ensure protection of the environment for larger interest humankind. In all our operations, we meet the national and international standards to keep our environment clean and green.
To address growing concerns about the environmental costs of burning fossil fuels, EIL has re-focused its engineering philosophy & business models to achieve long term sustainable growth by evaluating performance on the triple bottom lines of economic, social and environmental impacts. Our current priority is to develop environmentally acceptable energy solutions that will allow the world to benefit from the convenience and cost-effectiveness of hydrocarbons sources while simultaneously developing the technology to move towards other cost-effective, renewable and sustainable forms of energy technology.
EIL has a dedicated Environment Policy at corporate level, which has the following salient features:
Ensure compliance with applicable environmental requirements/regulations during design and delivery of products/services and our operations
Consider environmental impact in decision making processes
Promote/develop green technologies for sustainable development
Promote environmental awareness among all employees
Adopt the adage-reduce, reuse and recycle in all operations
Environmental Services to Industries
EIL is a leading consultant in India in carrying out Environmental Impact Assessment (EIA) studies and preparation of Environmental Management Plan (EMP) for new projects. A comprehensive and detailed EIA study helps in accurately predicting & assessing the environmental & socio-economical impacts of the proposed new facilities.
Having accurately predicting the impacts, EIL ensures that all negative impacts are properly addressed and all mitigations measures are taken to ensure the sustainability of environment in the region. EIL also carries out environment health risk assessment study for its clients, which helps in tracing the impact of various pollutants on health of the people in the vicinity of the plant.
EIL is the pioneer in deployment of state of art technologies in the field of effluent recycle/reuse leading to zero liquid discharge (ZLD) requirements, carbon management for control of volatile organic compounds, hazardous and solid waste management, recovery of oil from oily sludge and treatment of residual oily sludge using bioremediation process, opting energy efficient processes and treatment system, etc.