EIL is one of the leading engineering consultancy service providers to the refinery sector in India having executed 20 out of 23 refineries set up in India including 10 grassroot refineries, with a combined refining capacity of over 150 MMTPA (3 million BPD).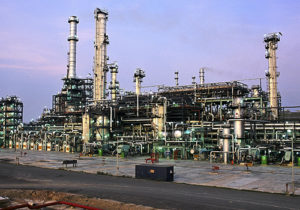 All services for refinery projects including environmental studies, risk analysis, energy conservation, advance control and optimization, health check etc. are available under one roof in EIL. Apart from the major process units, we have total capabilities of generation of various utilities and offsite facilities like water, power, air, storage tanks, flare system, blending and loading facilities etc.
EIL's capabilities, multidisciplinary skills and experience including in-depth knowledge of process technologies have provided a unique expertise for expansion & revamp of old petroleum refining projects including carrying out benchmarking studies for HSE management, loss prevention, energy optimisation and life assessment of old plants with the objective of determining plant integrity, performance enhancement and sustainability.
We have also undertaken a number of fuel specification upgradation and refinery modernisation projects to meet the environmentally clean fuel requirements based on Euro-III & Euro-IV specifications.
Dangote Refinery and Petrochemical Project comprising a 650,000 BPD grassroot Petroleum Refinery and 830 KTPA Petrochemical Complex in Nigeria for DORC.
BS-VI Fuel Quality Upgradation Projects for majority of Indian refineries.
195,000 BPD Guru Gobind Singh Grassroot Refinery Project at Bathinda, India for HMEL
130,000 BPD Central India Grassroot Refinery Project at Bina, India for BORL
180,000 BPD Visakh Refinery Modernisation Project (VRMP) for HPCL, India
180,000 BPD Rajasthan Refinery Project (RRP) for HPCL Rajasthan Refinery Limited (HRRL), India
Rehabilitation & Adaptation of Skikda Refinery for expansion to 330,000 BPD for SONATRACH, Algeria
Rehabilitation & Adaptation of Algiers Refinery for SONATRACH, Algeria
IREP Project at Kochi, India for BPCL for expansion to 300,000 BPD
Mangalore Refinery Phase – III Project for MRPL for expansion to 300,000 BPD
Vizag Refinery Clean Fuel Project for HPCL, India
300,000 BPD Refinery at Panipat, India for IOCL
100,000 BPD Condensate Topping Refinery Project and 4.7 MMTPA LNG Project at Skikda, Algeria for SONATRACH
Consultancy Services for Fire Fighting, Air Emission & Waste Water Management for TAKREER Refineries
PFR of West Coast Refinery of RRPCL (Ratnagiri Refinery Petrochemical Corporation Limited)
Petro FCC, Sulphur Block, Polypropylene Units and SPM & associated facilities for Refinery Expansion & Upgradation Project (Phase-III) at Mangalore of MRPL.