CSR Perspective in EIL: The concept of CSR is closely associated with sustainable economic and social development of the community through conscious efforts from corporate organizations and businesses. At Engineers India Limited (EIL), Corporate Social Responsibility is not just a compliance but a way of taking the society forward hand-in-hand with its business growth. EIL envisions enrichment of the lives of people through social upliftment, promotion of inclusive growth and recharging the environment in a sustainable manner.
EIL, a Design, Engineering and Project Management consultancy organization, is committed for operating its core business as a socially responsible corporate, by taking into consideration the wider interests of the community.
EIL has set clear objectives towards assisting the transformation of the Country's social infrastructure in an environmentally sustainable manner and has aligned its CSR initiatives to the national priorities. As a responsible corporate citizen, EIL has reached out to lakhs of beneficiaries belonging to underprivileged segments of society through its numerous innovative and sustainable CSR initiatives.
EIL has a Board approved CSR policy, in line with provisions of The Companies Act, 2013 that aims at bringing a positive change in the quality of lives of people by undertaking focused interventions through social upliftment programs. The CSR Policy defines the broad framework for undertaking CSR activities and modalities involved while doing so.
CSR Budget & Expenditure (Last 5 Years)
| FY | CSR Budget (Rs. in Crore) | CSR Expenditure (Rs. in Crore) |
| --- | --- | --- |
| 2017-18 | 9.16 | 14.74 |
| 2018-19 | 9.81 | 10.04 |
| 2019-20 | 10.78 | 11.28 |
| 2020-21 | 11.94 | 12.65 |
| 2021-22 | 10.47 | 33.51 |
The CSR thrust areas of EIL are completely aligned with Schedule VII under Section 135 of the Companies Act 2013 and are as follows:-
Health Care & Nutrition
Drinking Water/ Sanitation
Education/ Skill Development
Women Empowerment
Environment Protection/ Sustainability
Rural Development
Disaster Management
EIL CSR activities are also compliant to the DPE Guidelines regarding expenditure in annual thematic areas.
EIL's CSR initiatives are creating substantial impact in Aspirational Districts and other locations across the country. Our social interventions endeavor to bring about a positive change in the lives of the beneficiaries of our programs, their families, villages as well as the society at large.
The Major CSR Projects undertaken by EIL in last five years creating a significant impact in Aspirational Districts and other locations are outlined as below:
A. Health Care & Nutrition
Support for conducting eye screening and cataract operation camps pan India for the poor and needy persons.
Establishing 140 nos. of Model Anganwadi Centres in Assam.
Conducted 12 camps for awareness, screening and detection of anaemia and malnutrition and distribution of Govt. approved health and supplement to the identified needy cases in Uttarakhand.
Conducted Camps (Assessment and Distribution) pan India for distribution of assistive aids & appliances to poor and needy Persons with Disabilities (PwDs).
Provided 30 nos. of Medical Beds and Electrical Lift with Stretcher facility for the benefit of underprivileged persons in Haryana.
Installed Brachytherapy Unit at Tezpur Medical College & Hospital, Assam
Supported procurement of medical equipment at Indira Gandhi Medical College & Research Institute (IGMC & RI), Puducherry.
Supported identification and treatment of 375 nos. of children with clubfoot in Bihar.
Fight against Covid-19 Pandemic:
Established 09 nos. of 500 LPM Pressure Swing Adsorption (PSA) Oxygen Plants at 7 Government Hospitals in Karnataka.
Procured and supplied 1000 nos. of Oxygen Cylinders, Regulators, High Flow Nasal Cannula & Non rebreather masks as a part of pool of Oil PSUs.
Procured and supplied 250 nos. of Oxygen Concentrators as a part of pool of Oil PSUs.
Contribution to PM CARES Fund:
Contributed to PM CARES Fund in FY 2019-20, FY 2020-21 and FY 2021-22.
Establishment of 9 no. of 500 LPM PSA Oxygen Plants in 7 no. of Govt. Hospitals in Karnataka
Inauguration of Jan Arogyam Community Healthcare Programme in Khora Colony, Ghaziabad
Free Eye Screening & Cataract Operation Camps conducted in backwards areas of aspirational district Haridwar
B. Drinking Water/Sanitation
Constructed 743 no. of toilets in schools, villages and other backward areas across the country.
Maintaining toilets constructed by EIL under Swachh Bharat Abhiyan for at least 5 years in Assam, Odisha and Tamil Nadu
Installed RO Water Purifiers and Chiller Units in Govt schools of Haryana and Delhi
Constructed and installed three water purification plants (ROs) in villages of Bihar.
Installed RO Plants in villages of Dharwad District, Karnataka.
Installed RO Water Purifiers and Chiller Units in NDMC Schools / unaided Schools at Delhi.
Construction of 100 no. of Toilets in villages of Haridwar, Uttarakhand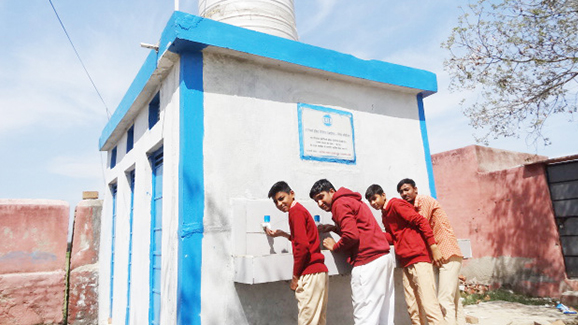 Construction of Toilets with Drinking Water facility Govt. Schools of Haryana
C. Education/ Skill Development
Contribution to initial corpus & operational funding for five years of Skill Development Institutes at Bhubaneswar, Kochi, Raebareli, Guwahati, Ahmedabad and Visakhapatnam.
Constructing additional classrooms in Govt schools of Darrang, Assam.
Constructing new school building of a Govt. School at Dharwad, Karnataka.
Supported 100 Ekal Vidyalayas in rural/tribal areas of Assam for imparting training and basic informal education to children.
Constructed six classrooms and a toilet unit at Lala Baijnath Pathshala in Tilhar, Uttar Pradesh.
Constructing additional classrooms in Govt. Schools of Karaikal, Puducherry.
Contributed to SDI Bhubaneswar towards setting up of permanent campus.
Conducted residential Skill Development Training Programme (SDTP) of 1600 nos. of candidates from backward classes across India in trades as Plastic Processing and Extrusion, Injection Molding and Blow Molding.
Construction of Upgraded Infrastructure facilities of a school in Tilhar, U.P.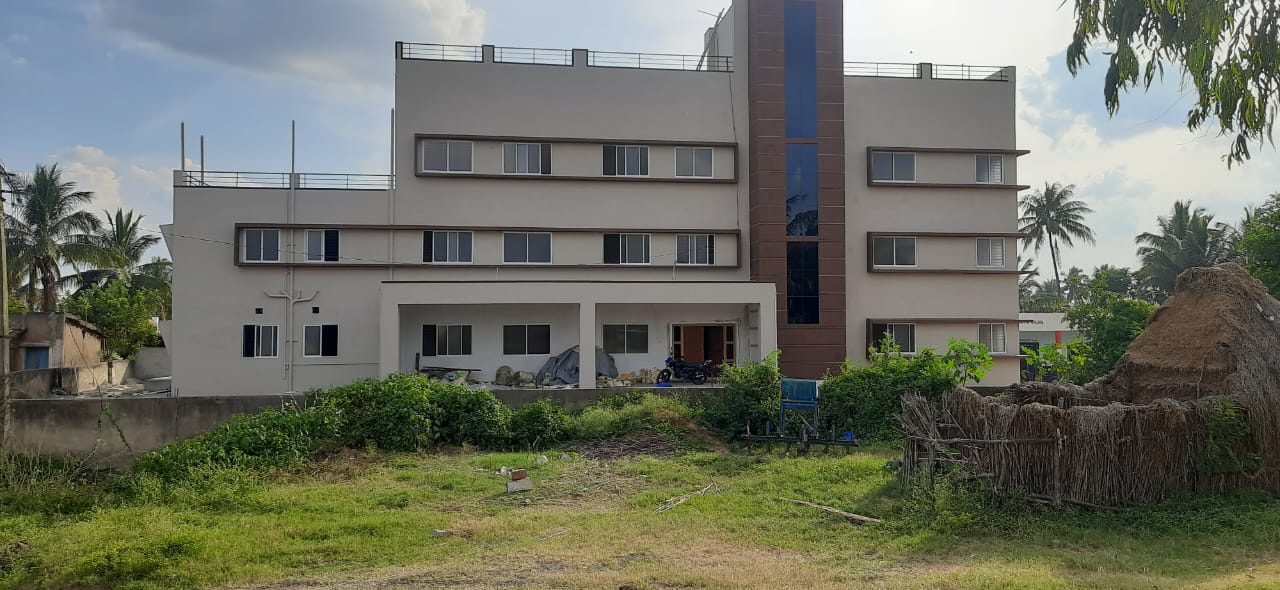 Construction of a School Building at Dharwad, Karnataka
D. Women Empowerment
Conducted Functional literacy programme for economic empowerment of 240 nos. of tribal women in Mushroom Cultivation, Bee-Keeping, Poultry Farming and Goat Rearing at Balangir, Odisha.
Conducted skill training for 49 nos. of women inmates of District Jail Gautambudh Nagar, Uttar Pradesh.
Provided Sanitary napkin vending machines at 10 Govt schools of Uttar Pradesh.
E. Environment Protection/ Sustainability
Setting up of plant for conversion of plastic waste to fuel at Mathura, Uttar Pradesh.
Supported restoration and development of water bodies viz. Anjani Kund in Haryana and Gauri Kund in Rajasthan.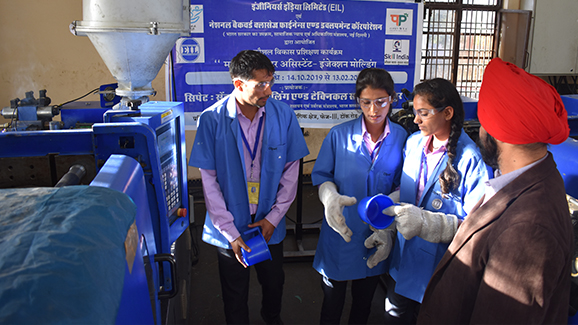 Residential Skill Development Training Programme for candidates from backward classes across India
Inauguration of Miyawaki Forest in Gurugram by C&MD, EIL
Restoration and Development of Water Body (Gauri Kund) at Bharatpur, Rajasthan
F. Rural Development
Supported installation and commissioning of Solar Photovoltaic based LED Street Lighting Systems in villages of Bihar, Uttar Pradesh and Odisha.
G. Disaster Management:
Contributed to Odisha State Disaster Management Authority (OSDMA) as cyclone relief fund
Contributed Relief Materials for Restoration, Management and Relief from aftermath of Cyclone "YAAS" in Odisha