EIL has to its credit implementation of pipelines for domestic and international clients. We have capabilities to plan and execute long distance cross-country and submarine pipelines for transportation of crude oil, petroleum products (single and multi-product), two phase fluids and slurries including pumping and compressor stations and metering and regulating stations.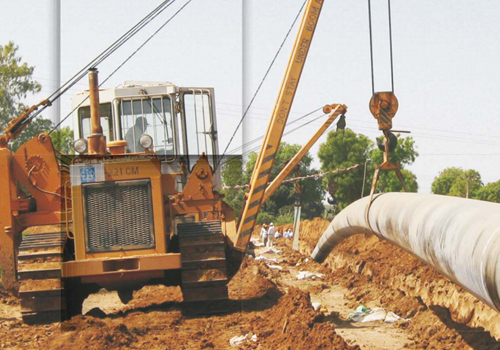 Our services for pipeline projects include conceptual scheme, feasibility study, on site investigations and route survey, telecommunication and telesupervisory control besides other project services such as design, engineering, procurement, construction supervision and project management.
We are capable of managing pipeline projects through difficult terrain conditions like:
Steep hills
Remote areas in thick forests with no access
Highly developed urban and industrial areas
Environmentally sensitive areas of wildlife sanctuaries and reserved forests
We have also provided extensive services for in-service reliability management of pipelines through intelligent pigging, cathodic protection and residual life assessment studies.
One of Asia's largest pipeline networks, the 1800 km HBJ Gas Pipeline and its subsequent 505 km. Gas Rehabilitation and Expansion Project for GAIL, India
One of World's largest LPG pipelines, the 1,269 Km Jamnagar – Loni Pipeline of GAIL
Associated with conceptual design of world's deepest planned Submarine Pipeline.
2000 km Mallavaram-Bhopal- Bhilwara-Vijaipur N atural Gas Pipeline Project for GITL, India
36″-18″ Dia., 1300 km. Dabhol – Bangalore Gas Pipeline Project f or GAIL, India
28" Dia., 1014 km. Mundra – Bathinda Crude Oil Pipeline Project for HMEL, India
18" Dia., 1066 km Mundra – Delhi Multi Product Pipeline Project of HPCL, India
24" Dia., 935 km Vadinar – Bina Crude Oil Pipeline Project of Bharat Oman Refineries Ltd.
16" Dia., 660 km Numaligarh- Siliguri Product Pipeline of Oil India Ltd.
30" Dia., 340 km Dhabol- Panvel Gas Pipeline Project Ph-II of GAIL (India) Ltd.
16″-8″ Dia., 775 km Mumbai-Manmad-Mangalya Pipeline and its extension to Piyala Bijwasan of Bharat Petroleum Corporation Ltd.
42" Dia., 610 km Dahej – Vijaipur Pipeline Project of GAIL (India) Ltd.
Replacement of NGL Pipelines Network Project for GASCO, Abu Dhabi
Habshan-Maqta-Taweelah Pipeline project for GASCO, Abu Dhabi
Inter-Refineries Pipeline Project for Abu Dhabi Oil Refining Company (Takreer), Abu Dhabi
Maqta – Taweelah – Jebel Ali gas pipeline for NPCC, Abu Dhab