Mode of Execution:
Pre FEED, FEED & PMC
Key Features
Overall Capacity

800 KTA Ethylene
660 KTA Propylene
Major Processing Units: HGU, Pyrolysis Gasoline Hydrogenation, Benzene Extraction Unit, PPU, LLDPE/HDPE Swing Unit, HDPE, Utility Boilers, Cooling Tower, DM Plant, Effluent Treatment Plant, O2/N2 Plant, Offsite Storage and Dispatch facility
Total Project Cost: USD 2.4 billion
Schedule: 42 Months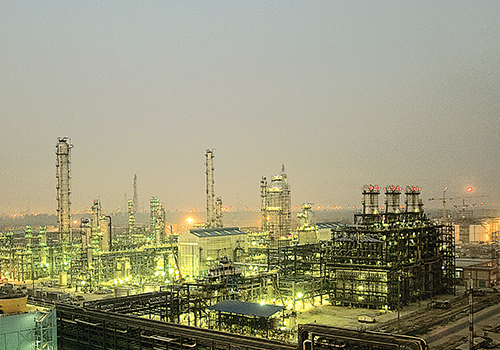 Process
Zero Effluent discharge from the complex. Designed for 100% re-use of facility.
Liquid effluent treatment conformed to the MINAS statutory Standards.
Procurement
Procurement of following items through 54 nos Indian vendors and 18 nos foreign vendors:
300 nos of Equipment
50 nos of Piping
30 nos of Instrumentation
17 nos of Electricals
HSE: 75 million Construction Man-hour achieved without Lost Time Accident.
Cost Saving: More than Rs.300 Crores savings to client on estimated project cost after award of LSTK contract to EIL.
Awards
128 days time saving w. r. t actual completion for world scale size naphtha cracker complex.
Project completion in 46 months is the lowest time schedule at global level.