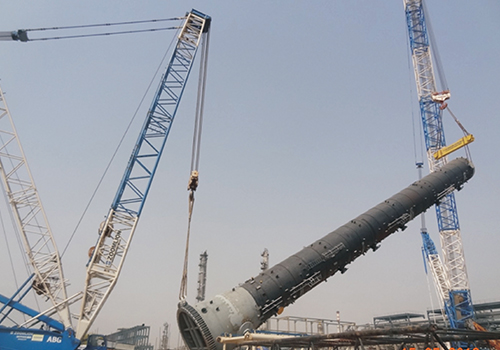 EIL is entrusted with the key activities involving translation of the physical manifestation of design, meeting all the safety and quality standards within the agreed time schedule of the project.
We provide Construction Management Services for various clients in India and abroad at diverse project locations. Our services for total Construction Management of a project include:
Pre-construction activities such as bid management process, constructability study including plot plan review/heavy lift study, etc
Construction activities such as
Site construction management
Liaison with statutory authorities
Management of construction quality
HSE management
Warehouse management
Contracts administration
Pre Commissioning and commissioning assistance
Contract closing followed by site closing
EIL has wide range of expertise and experience in handling projects in petrochemicals, refineries, Cross-country pipelines, Gas processing complexes, LNG Terminals, non-ferrous metallurgy and offshore works, fertilizer, nuclear power plants, City gas distribution, Infrastructural projects, etc .
HSE is an important aspect in delivery of any project that is fundamentally imbibed into our organization culture through the HSE policy. We have set up a benchmark in the field of HSE and pride ourselves in holding industry-leading record of achieving more than 80 million LTA free man hours at a stretch.
Our HSE management system consists of proven specifications, standards and procedures taking into consideration the wide range of experience gained during Construction execution over the past four and half decades. HSE management includes the following:-
Monitoring/ implementation of HSE Plan / JSA (Job safety analysis), erection schemes, method statements ,systems
Organizing HSE promotional , training, awareness programs, HSE program and meetings.
Work permit arrangement of contractors.
Inspection / Audits of Project sites.
Coordinating with Owner's HSE representative and contractors.
Feedback to project Mgrs of EIL and Owner on HSE
Compilation of HSE related statistics.
Coordinating On-site First-Aid facilities
EIL Construction teams on an average render supervision for more than 100 million manhours annually at sites. We have been credited with many accolades and landmarks in HSE aspects.