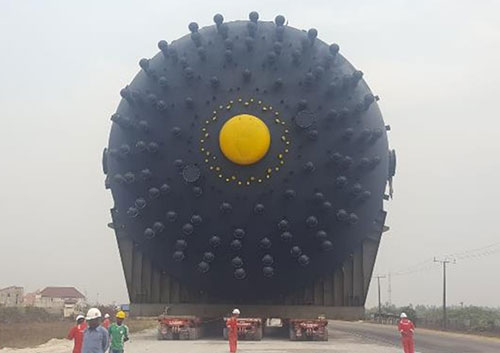 EIL has leveraged its strong track record in the Indian hydrocarbon sector to successfully expand operations internationally. Over the years, the Company has emerged as a global player with the execution of a number of prestigious assignments for international energy majors in Middle East, Africa and South East Asia.
With an extensive track record of consultancy assignments for Abu Dhabi National Oil Group of Companies (ADNOC), the United Arab Emirates is a focus area for EIL's operations in the Middle East. The Company has strengthened its Abu Dhabi office to develop it as an engineering hub to provide services to its esteemed clients for hydrocarbon, water and waste water and infrastructure segments in the Middle East. This engineering hub will be a 'one stop shop' for all its current and prospective clients in the region.  These focused efforts have started to yield positive results with the Abu Dhabi office securing a flurry of significant orders in the current year from clients in Middle East. These orders are from the Oil and Gas Companies as well as through EPC Contractors for providing engineering services.
EIL has earned recognition for jobs executed in Kuwait and Bahrain for oil & gas giants like EQUATE, KNPC, BAPCO, BANAGAS etc. EIL's expansion plans in this region received a major impetus with a PMC Contract secured from Oman Refineries and Petroleum Industries Company (Orpic) for their Liwa Plastics Project in Sohar, Oman against stiff competitive bidding from International Consultants.
EIL has been providing services for various Refinery and Gas Processing projects in North Africa, particularly in Algeria for Sonatrach since 1978. A recent prominent milestone in the African continent is the award of EPCM/PMC Services for a 460,000 BPSD Refinery and 600,000 TPA Polypropylene Plant from M/s Dangote Oil Refining Company in Nigeria.
In the fertilizer sector, EIL has successfully executed assignments for Indorama and Brass Fertilizers in Nigeria and is currently executing fertilizer projects for Bangladesh Chemical Industries Corporation (BCIC) and Panca Amara Utama, Indonesia.
As part of its global expansion strategy, EIL is focusing on Middle East and Africa to capitalize on its experience, established contacts with clients & suppliers and familiarity with local working conditions. The Company is also identifying strategic partners whose resources, capabilities and strategies are complementary to and are likely to enhance its business operations in such regions.
Dangote Refinery and Petrochemical Project comprising a 650,000 BPD grassroot Petroleum Refinery & 830,000 TPA Petrochemical Complex at Lekki Free Trade Zone, Nigeria for Dangote Oil Refining Company
Installation of ERL Unit-2 Project of Bangladesh Petroleum Corporation
Liwa Plastics Project in Sohar, Oman for Oman Refineries and Petroleum Industries Company (Orpic)
Qusahwira Field Development Project of ADCO, Abu Dhabi
Pipeline Projects of Abu Dhabi Gas Industries Ltd. (GASCO), Abu Dhabi
Rehabilitation & Adaptation of Algiers & Skikda Refineries of SONATRACH, Algeria
Olefins Conversion Unit and Polypropylene Unit of Abu Dhabi Polymer Company Limited (Borouge) at Ruwais, Abu Dhabi
Replacement of NGL Pipeline Network of GASCO, Abu Dhabi
Development of Engineering Capabilities for SONATRACH, Algeria
Integrity Enhancement of Fire Protection System for Abu Dhabi Refinery Ph-II & Ph-III of Abu Dhabi Oil Refining Company (Takreer), Abu Dhabi
Ethylbenzene and Styrene Monomer Plant at Bandar Assaluyeh Petrochemical Industries Development Company (PIDMCO), Iran
ABBR Modification Project of Gasco, Abu Dhabi
Aromatics Complex in Kuwait for Technimont, Italy
Mumbasa Refinery Upgrade Project of Kenya Petroleum Refineries Limited (KPRL), Kenya