Corporate Social Responsibility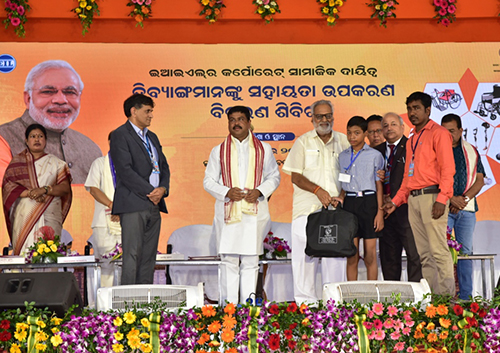 The concept of CSR has been looked upon as closely linked with the principle of sustainable economic development, which requires that organizations should make decisions based not only on financial factors but also on immediate and long term social and environmental consequences of their activities. Therefore, being a knowledge-based company, EIL has always been sensitive towards the concerns of society and is committed to operating its core business in a socially responsible way by taking into consideration the wider interests of the community and the environment.
The CSR mission of EIL have been guided by two elemental ideations, namely, the philosophy of enhancing the educational, health and environmental environs of the society and towards supplementing/supporting the ongoing and planned initiatives of the local, state or central government with projects / programs being located in and around its work places which includes project sites, regional and branch offices and the headquarters in New Delhi. The activities so undertaken are in consonance and consultation with State Governments, district administration, local administration as well as Central Government departments/agencies, Self-Help Groups, etc.
EIL is committed for operating its core business in a socially responsible way, by taking into consideration the wider interests of the community and the environment, with a vision of promoting sustainable development.
The objectives of the EIL CSR Policy are:
To assist socially and economically weaker segments of society to overcome hardship and impoverishment while recognizing the interests of all its stakeholders.
To create community assets for the development of rural/urban society.
To undertake CSR activities largely in and around EIL project sites and offices.
To reinforce the 'positive & socially responsible image' of EIL as a corporate entity.
To enhance increased commitment at all levels in the organization towards reinforcing the social and environmental conscience of the company.
To assure stakeholders that their company is sensitized toward enhancing the quality of life & economic well-being of the society.
Education: EIL supported educational programmes for providing basic formal education to 60 children belonging to underprivileged segment of society in Delhi/NCR and informal education for around 300 migrant children engaged at construction sites in Gurugram, Haryana. For imparting computer literacy amongst children from underdeveloped areas in Delhi/NCR, a project titled 'Computer Literacy to 136 Underprivileged Children' was supported. Other major CSR activities in this area include construction of compound wall at Municipal Primary School, Kasi Koil Kuppam, Thiruvallur, Tamil Nadu and support to Nirmithi Kendra for construction of Government School Building in Kabennur, Dharwad, Karnataka.
Health Care: Significant initiatives in the health care sector include support towards installation of medical equipment for project on 'Breaking the barriers of poverty through reduction of disease burden' for underprivileged people in slums of Delhi and providing Mobile Medical Care Units for affording health care services in villages of Odisha.
Drinking Water/Sanitation: EIL supported the construction/ maintenance of sanitation facilities in schools of Assam, Bihar, Odisha and Tamil Nadu under Swachh Vidyalaya Project. The Company also supported installation of RO plants at 6 locations of Kakinada, Andhra Pradesh and construction of 20 RO Plants in Dharwad District, Karnataka.
Rural Electrification: EIL supported installation of more than 100 Solar Photovoltaic based LED Street Lighting Systems each in Bhadohi and Shrawasti Districts of Uttar Pradesh.
Women Empowerment: Conducted a functional literacy programme for economic empowerment of 120 tribal women of Bolangir District, Odisha as well as skill training programme for 49 women inmates of District Jail, Gautam Budh Nagar at Kasna, Greater Noida in Tailoring, Dress Making and Beautician trades.
Upliftment of underprivileged: CSR activities aimed at upliftment of underprivileged sections of society include support for construction of first floor of 'NAB Home for the Aged Blind' at Dwarka, installation of Solar PV Plant at Ramakrishna Mission Ashram, New Delhi and distribution of adult diapers among bedridden and elderly patients residing across 30 slum areas of Delhi. The Company also conducted camps for distribution of assistive aids and appliances to poor & needy Persons with Disabilities (PwDs) at Bhubaneswar, Bolangir, Paradeep Districts of Odisha & Dibrugarh District of Assam while another ten camps are envisaged to be organized across EIL's areas of operation. Another initiative in this area was support for establishment of Vivekananda Centre for yoga, naturopathy and research at Delhi which is under progress.
Community Development: Construction of RCC retaining wall / road side drains / Compound wall at Yanam.
Vocational Training/Skill Centres: EIL supported training for employment generation and skill development of 55 candidates belonging to SC, ST, OBC and BPL categories at Bharuch, Gujarat. The Company also  supported skill development training to 1600 candidates belonging to SC/ST/OBC Women and EWS of society in Assam, Andhra Pradesh, Haryana, Uttar Pradesh, Madhya Pradesh and Jharkhand. Similar training programmes were organized for 300 Persons with Disabilities (PwDs) in Assam, Gujarat, Haryana, Karnataka, Rajasthan, Tamil Nadu and Telangana. EIL also supported the establishment of Skill Development Institutes at Kochi and Visakhapatnam.
Glimpses of CSR initiatives