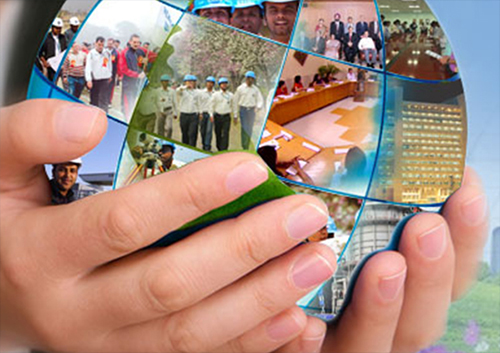 At EIL, the sustainability mandate is not just about contributing to a good cause or complying with environmental regulations but rather about operating its business in a manner that is responsible and transparent to all its stakeholders.
Sustainability at EIL implies:
Delivering projects as per corporate Quality and HSE policies which enables its customers to far exceed their targets of sustainability
Fostering partnership with its esteemed customers, suppliers, contractors and the community to support sustainable development
Nurturing and training a highly qualified workforce for sustainability initiatives at individual as well as at society levels
Developing and deploying environment-friendly technologies and work practices
Following robust Corporate Governance policies based on an established code of ethics, transparency and scientifically developed risk management System
Project designs support sustainability right from the concept stage to plant commissioning and subsequently during the commercial operation. Energy efficiency, resource optimization and safety of plant personnel & society at large are the cornerstones of EIL's business operations and also ensure business continuity.
R&D initiatives are focused on offering technologies to clients who reduce carbon footprint and increase plant yield. These technology initiatives include coal gasification, coal to liquid, CO2 removal from natural gas and DHDT.
EIL firmly believes in and has consistently practiced robust corporate governance practices. Transparency, professionalism and accountability in its business operations build trust of all our stakeholders which is a pre-requisite for our growth. Risk management policy and its supporting framework facilitate early identification and assessment of risks for timely intervention through appropriate control and mitigation measures.
EIL has an unconditional commitment to adhere to the highest standards in our corporate HSE practices. Injury-free and incident-free man hours of work at construction sites is note worthy. The infrastructure and the work environment EIL provides to its employees is built towards maintaining a sound work-life balance to enhance their professional and emotional growth.
EIL is a people-centric organization delivering excellence in services through its people. Overall welfare of its talent pool continues to remain its top priority. Continuous efforts are on to enhance the capabilities of its human capital by increasing the competency and commitment, through various HR initiatives such as reward & recognition scheme, transparent performance management system, mentoring, domain specific technical programs and management development programs.
The Company continues to reinforce its social commitment through various programs organized at construction sites to develop artisans amongst the local community for their contribution during plant construction and preparing them with the necessary skill sets to exploit various available employment opportunities in the long run. EIL's business operations support developing local manufacturers and suppliers as partners.
In accordance with the call of time, EIL has refocused its engineering philosophy and business models to achieve long term sustainable growth. Alongside EIL has initiated evaluation and reporting of its performance on the triple bottom lines of economic, social and environmental aspects. Sustainability initiatives underway at EIL will propel organization on an upward growth trajectory.